Time to Ride
Time to Ride Tote Bags
Nifty tote bags with this cool design featuring a v-twin engine, wings, and some grungy-cool type. Bags include an Impulse Tote, Grocery Tote, Budget Tote, Jumbo Tote and Tiny Tote. It might be hard to decide which one you want.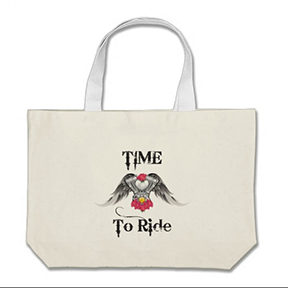 See More Items With This Design. You will also find white and light-colored apparel, office and household items, gifts, totes, drinkware and other goodies with this design on it.
Category: Motorcycle Merch
Linda Carruth is a freelance illustrator and designer who enjoys riding her motorcycle. Her professional work can be seen at lwwallace.com, but her motorcycle, humorous, and motivational designs are available at MadDashRiot.com, LinesByDesignBoutique.com, and at MadDashRocket.com.