My Bike. My Ride.
It Changes Everything. Long Sleeve Dark T-Shirt
When you own your own motorcycle, it does change everything. Suddenly, you no longer have to wait to be asked along. YOU decide when it's time to go for a ride. The term Lady Rider takes on a whole new meaning. It's the same for the guys, too. It's YOUR bike. YOUR ride. And now everything is different. This design is white on black, in simple type that reads: "My bike. My ride. It changes everything." And it does.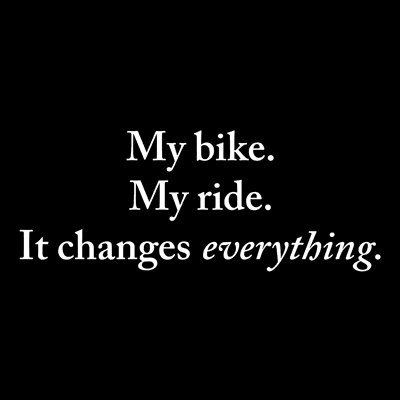 See More Items With This Design
See This Design on White/Light Colors
Category: Motorcycle Merch
Linda Carruth is a freelance illustrator and designer who enjoys riding her motorcycle. Her professional work can be seen at lwwallace.com, but her motorcycle, humorous, and motivational designs are available at MadDashRiot.com, LinesByDesignBoutique.com, and at MadDashRocket.com.