Lady Triker Rose Watercolor
Lady Triker Watercolor Rose Pajamas
This is an update to one of the earlier Lady Triker designs. This one feature updated typography and a watercolor effect on the rosebud and type. The pajamas have a bunch of choices for bottoms, if you prefer.
About the pajamas:
Women's Pajama Set
Unisex bottom is 100% cotton (4 oz) & has no fly and no pockets
Black Plaid, Pink Plaid and Lumberjack prints in Cotton Flannel. Other prints in Cotton Jersey; lots of choices.
T-shirt is 100% cotton (4.5 oz) with a fitted, longer length to complement your curves
Machine Wash Cold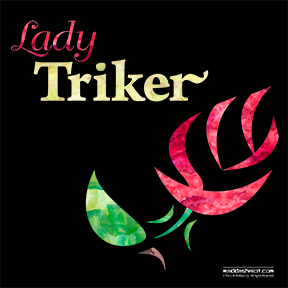 See More Items With This Design. This design is also available on white and light-colored apparel, as well as household and office tiems, drinkware, and gift items. Just scroll down on the main design page, the page that has multiple products.
Category: Motorcycle Merch
Linda Carruth is a freelance illustrator and designer who enjoys riding her motorcycle. Her professional work can be seen at lwwallace.com, but her motorcycle, humorous, and motivational designs are available at MadDashRiot.com, LinesByDesignBoutique.com, and at MadDashRocket.com.