Feel the Wind Watercolor
Feel the Wind Watercolor Long Sleeve T-Shirt
You ride. You know what it's like. The warm sun on your arms, with a cool breeze passing over them at the same time. Wind in your face, with all the fragrances of the season, and your knees in the breeze. There is nothing else like it. This design has wispy wind flourishes passing over a motorcycle cruiser silhouette and a fiery, grungy caption that simple says F.T.W. Feel the Wind.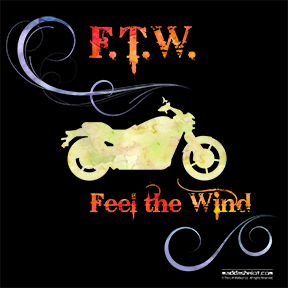 See More Items With This Design. You will also find white and light-colored apparel, office and household items, gifts, totes, drinkware and other goodies with this design.
Category: Motorcycle Merch
Linda Carruth is a freelance illustrator and designer who enjoys riding her motorcycle. Her professional work can be seen at lwwallace.com, but her motorcycle, humorous, and motivational designs are available at MadDashRiot.com, LinesByDesignBoutique.com, and at MadDashRocket.com.